This post may contain affiliate links. See my disclosure.
We are just around the corner from starting our 7th year of homeschooling, and we're putting the final touches on planning for 6th and 3rd grades. Here's a look at what we'll be using for 6th grade homeschool curriculum for history, geography, literature, science, math, language arts, and electives.
History, Literature, and Science
We loved the 2 years of American History that we just finished up, but we are all excited to move onto other parts of the world. This year we'll be traveling around the Eastern Hemisphere with BookShark's Reading with History Level F (previously level 5). There are so many excellent books in this level including quite a few that have been on our to-read list such as Where the Mountain Meets the Moon, Young Fu of the Upper Yangtze, and Around the World in 80 Days. The wait is over! I love that we can cover history with quality literature. This level comes with the China Kit for hands-on fun, which both girls are really excited about.
We're also moving onto BookShark's Science level F – Health and Human Anatomy. There doesn't appear to be many science experiments (no science kit), but the book Blood and Guts has some experiments. My daughter is actually pretty happy about this. Last year was pretty intense with the experiments, so I think she's looking forward to a bit of a break. This level also gets into survival skills, which I'm looking forward to learning about. It'll be great to dive into this now that we're hiking more with the kids.
Related post – Making Homeschool Middle School Unique
Geography
I love how BookShark naturally weaves in geography through the history books. However, sometimes I wish we'd done something a little more structured for learning about our 50 states. I looked around for something to supplement our American History last year, but finally decided to create my own – with my kids' input, of course. They helped me create a big stack of notebooking pages that we started towards the end of last year. We'll continue on through all 50 states even though my oldest is moving on to the other side of the world. Snag your own copy of An Adventure Through the 50 States.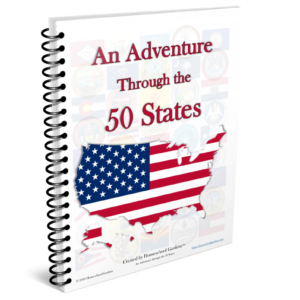 Math
What a difference a year makes! Math has always been a bit of a struggle for my oldest. It doesn't help that little sister breezes through her math lessons. I was really afraid they'd be doing the same math this year even though they're 3 years apart. My oldest really buckled down and made great progress last year. We started Thinkster Math last fall, in addition to her regular curriculum, and she's done very well with it. We also started incorporating math in many other ways. Even though I'd tried long before this year, she was finally open to playing math based games this year. We'll continue using Singapore Math for our curriculum, Thinkster Math for tutoring, Prodigy for online games, and many other math games this year.
Related post – Thinkster Math Program Review
Language Arts
This is the first year (ever) that we'll be using something other than BraveWriter. We enjoyed the copywork/dicatation products, but my kids never engaged with the writing projects. In the middle of last year, I finally admitted that it was time to try something new.  My oldest started Institute for Excellence in Writing's Fix it! Grammar in the 4th grade, so we decided to give their Structure and Style program a try. Both girls started level 1A last year and we should be finishing it up over the summer.
Instead of just relying on a structured language arts curriculum, I also encouraged her to find her own writing projects. She loves to play with words, but she needs a little help moving forward in creative her own writing. She choose this Writing Box Set which includes 2 books of writing prompts and tips for different types of writing plus a journal. She's also excited to use Write and Draw Your Own Magazines.
This is the final year for her doing a structured spelling program! We were hoping to finish up All About Spelling's level 7 last year, but we got a bit sidetracked. She'll be able to complete it this year and then she just needs to practice spelling as she writes. I'm not picky about her spelling when she's writing as I'd rather her ideas flow without the worries of spelling. However, she needs to work on finding those errors on her own with proofreading. That will be a strong focus when we work through the IEW programs this year.
Related post – Using Phonics Rules or Sight Words?

Everything Else
I've always asked for my kids' input when planning out their school years. I want them to be able to run with their ideas too. My oldest has really enjoyed learning about interior design. We found a few Outschool classes that I think will help her pursue that interest. She's also going to be working on art and learning to draw. Those will fit nicely together.
We've been meaning to start a foreign language for 2 years, but it hasn't quite worked out yet. I was hoping to learn something as a family, but the girls never agreed until this year. They both want to learn Spanish because they realized that a few of their close friends speak Spanish in their families. Our library offers Rosetta Stone for free with our library cards, so that's what we'll try for now. We better get started before they change their minds again! At this point, I don't really care which language they choose. I really want my oldest to start learning something this year.
We're still continuing with art lessons with Nana at Chalk Pastels. The girls have really enjoyed these videos. Once more activities start up for the fall, I'll be looking for an in-person art class for them. They'll also each pick an instrument this year with a homeschool music group. They did choir for a few years before wanting a break. Now that my oldest is 6th grade, she really needs to try an instrument. We'll still continue learning about artists through library books, but this year I want them to focus on hands-on experiences.
Independence
A big change for this year is how I'm going to encourage her to take more responsibility for her school work. Last year we bought both of our girls their own daily planners so they could see just how much time our outside activities take away from our structured homeschool curriculum. They each wrote a list of subjects that they needed to get done each day and blocked off the time that we'd be out of the house for field trips, nature days, park days, group classes, and sports. It helped them visualize everything that was on our agenda which helped them prioritize what was important to them. They will get new planners this year, but I'm going to have my oldest write out her specific assignments that she needs to do each week. What doesn't get done during the week will have to get done in the evenings or on the weekend – hopefully. This will also help me see just how much work is a reasonable expectation.
Whew! I'm excited (and a little scared!) for my first baby to hit middle school. It's been fun planning out this year's 6th grade homeschool curriculum with her and going through all the awesome books we'll get to share. I even picked out a few of her readers that I'm planning to read myself!
Related Posts
How to Choose Homeschool Curriculum
5th Grade Homeschool Curriculum Choices
4th Grade Homeschool Curriculum Choices
3rd Grade Homeschool Curriculum Choices
2nd Grade Homeschool Curriculum Choices
1st Grade Homeschool Curriculum Choices